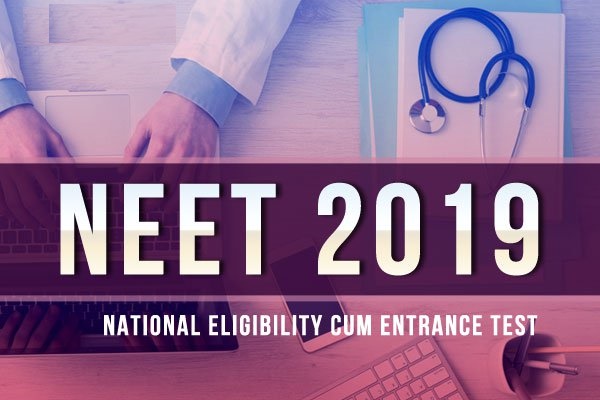 Everything you need to know about NEET (National Eligibility and Entrance Test) 2019
The National Eligibility cum Entrance Test or NEET is an entrance examination in India, for students who wish to study graduate and postgraduate medical course (MBBS, MD, MS) and dental course (BDS, MDS) in government or private medical colleges and dental colleges respectively in India.
NEET-UG is a single entrance test for admissions to more than 66,000 MBBS and BDS seats across India. In 2018 NEET exam, around 80% of the candidates wrote the exam in English, 11% in Hindi, 4.31% in Gujarati, 3% in Bengali and 1.86% in Tamil. From 2019, the National Testing Agency will conduct NEET, instead of CBSE. Undergraduate courses at the All India Institute of Medical Sciences in New Delhi, Postgraduate Institute for Medical Education and Research in Chandigarh, Jawaharlal Institute of Postgraduate Medical Education & Research JIPMER are outside the NEET's purview, as these institutes were set up by separate laws.
National Eligibility cum Entrance Test
Type                                                                Pen and paper based
Developer/Administrator                       Central Board of Secondary Education (2013-2018)National Testing Agency (From 2019)
Knowledge/Skill Tested                           Biology, Chemistry and Physics
Purpose                                                            Admission to undergraduate MBBS and BDS courses in government and private colleges
Score/Grade Range                                   -180 to +720
Duration of Exam                                       3 Hours
Restriction on Attempts                          Maximum nine attempts in successive years (unreserved category)Maximum 14 attempts in successive years (reserved category)
Countries/Region                                       India
Language                                         
Assamese
Bengali
English
Gujarati
Hindi
Kannada
Marathi
Oriya
Tamil
Telugu
Urdu
Website –  www.cbseneet.nic.in
Exam Structure
NEETUG                                                                                                                          For NEET UG, there are questions asked from Physics, Chemistry, Botany & Zoology. There are 45 questions from each of the sections. A correct response gives the candidate 3 marks while 1 mark is deducted for every wrong answer. No marks are deducted if the candidate has not attempted a question. The total time duration is of 3 hours.
NEET-PG
In NEET-PG, the question paper is divided into 3 parts: Part A having 50 questions, Part B having 100 questions while Part C having 150 questions. 4 marks is awarded for each correct answer, while 1 mark is deducted for every wrong answer. No marks are deducted if the candidate has not attempted a question. The total time duration is of 3 hours 30 min.
Syllabus
NEET UG
NEET UG syllabus consists of concepts taught in standard 11 and 12 in the Indian School Systems.
NEET-PG
All subjects taught during MBBS which includes Pre-Clinical, Para-Clinical and Clinical subjects
Colleges
As per the orders of Honourable Supreme Court, there will be a single medical entrance exam all over India for admission into medical and dental colleges. The colleges will not be able to conduct their own medical entrance exam and thus all will accept students based on National Eligibility Cum Entrance Test 2017 (NEET) Score. All India Pre Medical Test (AIPMT), is now known as NEET. The total number of seats offered under NEET are 66,000 which is distributed accordingly.
| | |
| --- | --- |
| Colleges | No. of seats offered |
| All private colleges | 25,840 |
| All government colleges | 27,590 |
| NEET Counselling seats | 3,521 |
| NEET Basis seats | 35,461 |
NEET is also for admission into 15% seats in government medical and dental colleges and in all private medical and dental colleges all over India except Andhra Pradesh, Telangana. These states do not participate in NEET (15% all India quota).
Reference Books
Lastly, here's a subject-wise list of the top reference books and study material for your NEET preparation.
Physics
 Concepts of Physics by H.C. Verma Vol 1 & Vol.1
Objective NCERT at your fingerprints for NEET by MTG
Series of Feynman Lectures on Physics
Chemistry
New Pattern Chemistry by R.K. Gupta
Organic Chemistry by Robert Thornton Morrison
Concise Inorganic Chemistry by JD Lee
Modern ABC of Chemistry for Class 11th& 12th
Objective Chemistry for AIPMT/AIIMS and other PMTs by MTG Editorial Board
Objective Chemistry Vol. 1 for NEET by R.K. Gupta
Objective NCERT at your fingertips for NEET-AIIMS – Chemistry by MTG Editorial Board
Biology
Trueman's Elementary Biology – Vol. 1 & Vol. 2
Complete NEET Guide for Biology by MTG
Objective NCERT at your fingertips for NEET-AIIMS – Biology by MTG Editorial Board
Apart from the ones mentioned above, you could also refer to R.Gupta's NEET: UG CET Master Guide, New Pattern of Chemistry by R.K. Gupta, and Dinesh Objective Biology.
To conclude, it's imperative to stay focused and motivated if you want to crack NEET. Get enough rest at night to remain alert and active. Best of luck for your exams.
With lots of luck
Team SYFT (Skilled Youth For Tomorrow)
Visit us at – www.syft.in