Google, Paytm mall may team up for stake in future retail
India now ranks 77 in ease of doing business
India certainly not 'tariff king': World Bank official
Tata Motors posts Rs 1,049 crore loss in Q2
Core sector growth slows down to 4.3pc in Sept
Tata reach pact with ATC; to sell 13% stake
Amrapali diverted funds through 200-250 dummy firms
Spectrum sale may net only Rs 40,000 crore
Core sector growth slows down to 4-month low of 4.3% in Sept
Vedanta Q2 net profit at Rs 11.35 bn, down 43% from same period last year
Canara Bank Q2 profit rises 16% to Rs 3 bn; net interest rate grows 18%
India looks to adopt deterrent penalties in data protection law: IT Secy
Reliance MF Q2 net profit up 12% to Rs 1.14 bn, revenues flat at Rs 3.91 bn
Lupin Q2 net profit drops 41.5% to Rs 2.66 bn as sales slip in US
Tatas, TCS violated rules in ouster of Mistry: RTI
Biologics business more than doubled in Q2, says Biocon CFO
IL&FS board proposes sale of subsidiaries, capital infusion
United Spirits Q2 profit surges 69% to ₹259 crore
Adani Power posts standalone Q2 net loss
Apple's India profit zooms 140% to ₹896 cr in FY18
RBI autonomy essential, says govt
L&T Q2 profit rises 23% to Rs2,230 crore, beats estimate
Railways increases freight rates for coal, steel, iron ore by almost 9%
ABB India powers ahead in Q2 as portfolio rejig pays off
NIIF acquires IDFC Infrastructure Finance
Jet Airways gets payment delay notice from aircraft lessors
No liquidity crisis in NBFC segment: Reserve Bank of India
Amid reports of Urjit Patel resignation, FinMin says RBI's autonomy 'nurtured and respected'
China's aversion to big bang stimulus tested by Donald Trump's US tariffs
Thermal power plant addition seen slowing in FY19-23 on PPA scarcity
FIIs to take a backseat over next 6-9 months
India Inc faces 'trust deficit' after IL&FS default, says S&P
Kotak panel seeks 2-3 quarters to lift IL&FS out of debt trap
India will pay in Rs for Iran oil post-US sanctions
Government eyes consolidation route to reach divestment goal
Fuel price cut by oil firms was one-time move: FinMin
China draws over $17 bn in orders for dollar bond sale
I-T officers to pay up for adjusting refund against dues
Govt hikes import duty on select telecom items to 20%
India may miss solar, wind capacities target in FY19
SECI extends deadline for 10 GW solar tender
IMF retains India FY19 growth outlook at 7.3%
LIC's open offer for IDBI Bank to begin from Dec 3
Deadline to file ITR with audit report extended to Oct 31
TCS reports 22.6% jump in consolidated net profit at Rs 79.01 bn
RBI firm on data localisation; 80% of firms to comply by Oct 15 deadline
India's manufacturing sector likely to witness robust growth in Q2: Survey
Gujarat govt's panel may bring Rs 1.29 bn relief to Tata, Adani and Essar
FinMin to soon invite bids from merchant bankers for CPSE mergers
FinMin to soon invite bids from merchant bankers for CPSE mergers
Google India turnover jumps 29% to ₹9,338 cr in FY18
OPEC says oil market well supplied, wary of 2019 surplus
NSE signs licensing pact with LME for reference prices
Advent acquires entire 40% stake held by Kedaara Capital in
ONGC terminates rig conversion deal with Mercator
Ind-Ra maintains stable outlook on cement sector
RBI changes tack on forex intervention, focuses on forwards market
Tata Power among bidders in race for Odisha's CESU
Bank-NBFC handshake on loan portfolio purchase a win-win deal
Aurobindo Pharma gets USFDA nod for infections treatment drug
US-China trade war: World Bank, IMF heads urge Washington, Beijing to play by tariff rules
Iran sanctions: India ups imports from Saudi
ICAI sets up panel to study systemic issues in IL&FS crisis
IL&FS default undermines asset backed securities market, highlights continuity risks: Fitch
Finance panel not to penalise states over funds' devolution
JSW Energy to up ante in Prayagraj Power bid
Limited gains from ethanol to sugar industry
Only 400 firms respond to draft data protection bill
India's National Housing Bank raises refinance limit
Saudi claims to replace our oil 'unbelievable': Iran
Taking steps to cut time to grant patents: DIPP Secy
Improvement in power demand-supply gap: Ind-Ra
Tenders worth Rs 88K cr for bullet train project by Jan
Govt's decision to reduce fuel prices credit negative for OMCs: Moody's
Sebi revises norms to be followed for recovery of investors' money
Suzlon aims to reduce 40-50% of debt through asset monetisation by March
Investment in P-notes rises to Rs 846.47 bn by August-end from Rs 803.41 bn
RBI approves Federal Bank's proposal to sell 45% stake in NBFC arm Fedina
No going back on fuel price deregulation: Pradhan
Food aggregators delist over 10,000 restaurants on FSSAI directive
No official letter or directive from centre to cut prices: HPCL
Fiscal sops for SEZs must be linked to investments, jobs: panel
Govt seeks special powers for new IL&FS board
India may continue with Iranian oil imports post sanctions
JLR to shut UK plant for 2 weeks as China sales slump
Net equity mutual fund inflows hit four-month high in Sep
Baker Hughes to pay $550 million for stake in Adnoc Drilling
Reliance hikes petrochemical prices to offset rising oil
Govt launches Sovereign Gold Bond Scheme FY19
ARCs with strong capital backing to stay relevant, says report
Bank Unions to protest against PSU banks' merger decision on Tuesday
Institutes offering education to NRI students now eligible for export incentives under SEIS
Growth in India firming up, projected to accelerate further: World Bank
India's personal wealth to touch $5T by 2022: BCG
Sovereign gold bond scheme to open on Oct 15
Govt cuts fuel prices by Rs 2.50 per litre
India cuts Iran oil imports to win US sanctions waiver
Bio-CNG incentives to usher stubble based green projects
Not resigning from Maruti board over IL&FS: Bhargava
SUV, EV under Mahindra-Ford tie up soon
Govt determined to contain IL&FS crisis: Jaitley
Mayhem! Rs 3.31 lakh cr equity wealth wiped out
RCom seeks 10 more days to settle Ericsson dues
ICICI Venture in talks to buy stake in Micro Plastics
IDBI Bank allots 339.9 mn preferential shares to LIC at Rs 61.73 apiece
NBCC to float tenders to fast-track stalled Amrapali housing projects
LIC makes open offer of Rs 126 bn to acquire 26% stake in IDBI Bank
Bombay High Court rejects NSEL brokers' plea on de-registration from Sebi
RIL out of $100-bn club as market cap slips to $96.5 bn, TCS lone member
MF's AUM surges 14% to over Rs 24 trillion in Sept quarter
Govt notifies 10% LTCG tax on IPO/FPO gains
BSE, NSE to suspend trading in Moser Baer from Oct 11
India, Russia to sign economic agreements, discuss rupee-rouble payment mechanism
Gross direct tax collection grows 16.7% to ₹5.47 lakh crore in April-September
Varun group buys Vizag's Taj Gateway
SC allows Arcelor Mittal, Numetal to clear dues to stay in race for Essar Steel
IL&FS appoints Vineet Nayyar as managing director
OMCs to complete $10 bn overseas borrowing in 1-year: Finance Ministry
Chanda Kochhar quits as CEO of ICICI Bank, Sandeep Bakhshi to take over
Mukesh Ambani richest Indian for 11th consecutive year: Forbes
Govt may extend term of GST anti-profiteering watchdog
SEBI appoints KPMG, Grant Thornton, 5 other entities to conduct forensic audits of listed firms for fraud
Cabinet nod: MSP for rabi crops raised by 2-21%
Spot power prices soar to 10-yr high
RoC to grill former IL&FC brass on fund management
Strong US economy puts Asian currencies on skids
Govt explores ways to cut imports, raise exports
17% rise in H1 tax collection boosts govt
Modi, Putin to ink $5.4b deal for S-400 air defence
US Fed raises policy rate by 25 basis points
UNCTAD expects India's GDP to rise 7% in 2018
World economy on shaky ground: UN report
Aadhaar does not violate Right to Privacy: SC
FinMin begins discussions with PSBs for capital infusion
Centre approves nearly 6.28 lakh houses for urban poor
Tax cuts cannot keep oil prices low for long: Pradhan
Cabinet clears another bailout package for sugar mills worth Rs 55 bn
Govt hikes import tariffs on 19 items; ACs, refrigerators, footwear hit
SBI offloads 4% stake in general insurance arm for Rs 4.81 billion
DRI's NOC a must for duty-free import of edible oil from Bangladesh
Two buyers interested in RCom's leftover businesses: Company official
India's economy continues on robust growth path: ADB
Govt estimates kharif foodgrains output at record 141.59 mt
CIL board okays 'add on' over notified price of NEC coal
NMDC to commission Nagarnar coke oven unit, also steel plant
Videocon Industries Ltd. – Invitation To Submit Resolution Plan
Mutual funds gearing up to face debt fund redemption
Cabinet approves telecom policy to draw $100 bn investment, create 4 mn jobs
Telecom companies may be fined for flouting portability rules
DoT moves to classify dues Aircel owes as statutory
Tata Steel may invest ₹300-400 crore in Usha Martin in FY20: report
Gold prices fall after rising for two sessions, silver surges
Punjab National Bank, Indian Bank to offload entire stakes in credit info firm Experian
Cryptomining malware shoot up to 86 per cent in Q2 this year, says McAfee
IPR policy reduces pendency of intellectual property applications: DIPP Secretary
Government working to restructure Air India's finances, says Economic Affairs Secretary SC Garg
Bank credit rose by 13.46%; deposits by 8.58%
Rupee rescue mission begins, oil purchases may be trimmed
Centre mulls fresh lease of life for Goa mines
Essar Power commissions 337-km Mahan-Sipat transmission line
Small finance banks lose market share in micro lending
GSTN to be made 100% govt-owned company
Spouses of Indian IT brigade in US may soon lose work permit
RBI study hints a rate hike in the next policy meet
Electrosteel Steels board approves delisting of company
Refusal to renew consent to operate bad in law: Vedanta
Usha Martin seeks details on end-use of funds
Yes Bank board to meet after RBI directive on CEO
India may go for import curbs, gold to be spared
India's trade with neighbours only 31% of total potential: World Bank
Govt extends deadline for filing I-T returns, audit report till October 15
BofAML ups CAD forecast to 2.8% in FY19 on rising crude oil prices
Revival of 45 bankrupt firms will meet 50% of lenders' claims: IBBI chief
Brent crude crosses $80 as OPEC rejects Trump's call for oil output boost
'Currency in circulation slows down since May'
Iran oil: Experts see no possibility of US granting waiver for India
NRC seeks shareholders nod to sell assets
Bank loan fraud: ED to file charge sheet against Sterling Biotech promoters
Infosys bags $62-m deal from Canadian govt
Govt may opt to control retail fuel prices to cushion
Sebi said to review DHFL, Yes Bank for trading irregularities
India plans power sector mergers to raise ₹ 20,000 crore
Ola in funding talks with Naspers at a valuation of $7-8 billion
US, China impose fresh tariffs with no trade talks in sight
High-level panel set up to resolve Ratnagiri refinery issue
ED resisted bids to settle loans, says Vijay Mallya
L&T Technology Services bags $40 million deal
India to be USD 100 billion FDI destination by 2022: PHD Chamber
Dena Bank approves merger with Bank of Baroda along with Vijaya Bank
FM to review banks' financial performance today
Crude spike, RBI dollar selling slows currency in circulation
India imports iron ore despite enough reserves
Rana Kapoor may stay as whole time director of Yes Bank
Government mulling merger of REC and PFC
Government appoints 14 executive directors in banks
SBI hopes to resolve 7-8 stressed assets by Nov 11
Emirates, Etihad airlines deny report they may merge
Infosys launches next-gen learning solution Wingspan
Tata Steel celebrates its 100 years in the Netherlands
BRICS bank approves $525-mn for infra projects in MP
India's economy to double in size to $5 tn by 2022:PM Modi
Sebi norms for corporate bonds could boost issuances by Rs 500 bn: Crisil
TVS Logistics Services buys 51% stake in Chola's WDSI for Rs 422 mn
India to settle payments for Iranian oil using rupees starting November
India to settle payments for Iranian oil using rupees starting November
Govt hikes interest rate on small savings by up to 0.4%
NITI Aayog to make recommendations on proposed agriculture
USGC asks India to allow ethanol imports to lower crude oil
Chennai Petroleum cancels Iran oil imports
SBI gets tough with ArcelorMittal over Uttam Galva dues
E-commerce cos to deduct 1 pc TCS under GST from Oct 1
'SBI not the right candidate to take over more banks'
PowerGrid gets shareholders' nod to raise up to ₹20,000 crore via bonds in FY20
Petroleum products may not be brought under GST soon
India considers raising steel import duty to support rupee
India considers raising steel import duty to support rupee
Preventive vigilance better governance tool for public institutions, says RBI Governor Urjit Patel
NCLAT wrongly allowed ArcelorMittal to pay dues after bidding for Essar Steel, NuMetal tells SC
Steel import duty hike may widen CAD, hit engineering exports: EEPC India
India Post invites proposal for consultancy on setting up insurance arm
Asian firms' confidence sinks to near 3-year low: Poll
Fitch revises Tata Motors outlook to negative
Global meet on sustainable trade and standards
ITC Hotels acquires Park Hyatt Goa Resort
SEBI passes on economies of scale of increasing asset size to investors
More in Samara cart, fulfilled bay Amazon
Missive to Sebi: Ex-Infy board must shell out Bansal award
Govt may write to Whatsapp on fake message again
Michel's extradition shot in arm for India
Ordinance on triple talaq flawed: Congress
Sharechat valuation jumps to $460m
Videocon lenders want one adviser for auction of 15 units
AMC shares lose on sebi move to lower MF fee
Indian refiners to pay Iran for oil in rupee from Nov 4
India's advantages far outweigh macro fears
China sets retaliatory tariffs on $60bn in US goods
Prove charges against Arcelor Mittal: SC to Numetal
Daiichi intervenes in HDFC's insolvency case
Reliance Capital to exit all non-financial business
No settlement plea from ICICI Bank: Sebi
LIC yet to seek open offer exemption for IDBI takeover: Sebi
Sebi pares IPO listing time to 3 days from 6, clears UPI as payment option
Cabinet to mull Rs 45-bn package for cash-starved sugar industry on Wed
Huge debt in corporate balance sheets reason for stunted job growth: Birla
Investment, not subsidies, will make farming self-sufficient: FM Jaitley
Govt sees rupee at 72-73 against dollar as 'fair value': FinMin source
PNB shareholders approve ESPS scheme; Rs 28 bn capital infusion by govt
India delays retaliatory tariffs on US goods till Nov 2
Lowering inflation is a major structural reform in India: IMF official
SEBI shelves plan to extend equity trading hours
HPCL on expansion drive with ₹60,000-cr capex
Govt plans hike in gold import duty to check rising CAD
Sebi cuts mutual fund expenses, reduces listing time
Sebi approves KYC norms for FPIs, new settlement mechanism
Rupee closes at all-time low of 72.97 a dollar
RCom to exit telecom fully to focus on realty: Anil Ambani
Nestle, Unilever, Coke make bids in $4 billion-plus GSK India sale: report
Tesla facing US criminal probe over Elon Musk statements
Sebi mulls reaching govt for powers to intercept calls, messages of economic offenders
Insurance companies to pay 12% interest to farmers in case of delay in settlement claims
Crisis-ridden IL&FS under regulatory scanner for alleged corporate governance, disclosure lapses
Low procurement: Early kharif crop prices below support price levels
CCI imposes Rs 38cr penalty on 18 sugar mills, 2 industry bodies
NSE files consent application in co-location case
Trai consultation paper on fiberisation soon
PFC files insolvency plea against ex-Indiabulls
Petrol, diesel rates scale new highs after a day's break
Govt may decide on 4G spectrum allocation by dec
Big bank merger: Baroda, Vijaya and Dena to one
CBI Spl director must monitor probe: HC
2.1m company directors may get more time to meet KYC rules
Sachon Bansal explores a stake buy: Ola gets more backers on board to race ahead
Indices, rupee back on reverse gear
Rupee may not push price tag change in top brands
Import curbs on Non-essential goods may be issued this week
Deadline likely to be extended for duties on 29 US products
Rupee likely to be on a roller-coaster ride this year: Up to 3% recovery seen by year end
Brookfield to acquire Ambani gas pipeline
Largest PE investment in renewable space for $368 M: CDPQ to buy 40% in CLP's India unit
GMR, GVK plan to offload stakes in airport ops
FB ad rates double as news feed algorithm changes
Sebi may bring down mutual fund charges
Trump set to slap $200 B tariffs on chineese goods
Fuel demand growth stays strong in Aug despite record high prices
Tax authorities divided as builders claim cash deals as loan
PayU India receives license from RBI to operate own NBFC
Amazon cut seller fees, storage charges ahead of festive season sales
LULU group to strike deal: Master Blaster Sachin Tendulkar to sell kerala Blasters stake
UPA-Era Finmin under CBI lens for loans to Mallya
Indians may find Apple's new crop hard ti digest
Congress, Govt accuse each other of peddling Falsehoods
Ecomm Cos set to withhold tax from payments made to suppliers
Flow of foreign tourist slowing down, say tour operators
Singh brothers opt for Truce ahead of hearing
Flipkart buy: I dept seeks fresh inputs from Walmart on TDS paid
Price to rise at least by 7%: Falling rupee hits Handset Cos
Rupee recovers footing, stocks climb back: Revival amid reports that PM may hold meeting over measures to shore up currency
DoT chalks out plan to reduce rows with Telcos
CIL sets 680MT supply target
Lifestyle pauses store growth for its private labels
1 Lcr-plan for 14 Mega national employment zones in the works
Army Brass agrees to transform force, trim headquarters
Retail inflation cools to 3.69%: IIP grows at the rate of 6.6% in July as capital goods and manufacturing shine
RIL was offset partner in Rafale
IL&FS to sell its headquarters
TCS to play big role in shaping Tata group's digital strategy
Sensex and Nifty fall over 1%, highest in six months; rupee tumbles to fresh low
CAD on a hot, Tin Roof: Bulls flee, Rupee slips
Essar steel gets fresh offers: Arcelor Mittal's bid pegged at 42,000cr, numetal's at 44,000-45,000cr
Jan Dhan OD option likely to give 32,000 cr boost to economy
Whatsapp finalising India brass, may rope in Lakhotia for payment unit
Spice Jet to launch air cargo service on Sept18
Handset Cos seek one more year to start gear testing
After tax googly, Complan may end up in coke bottle
TVS have a new programme: Make in India
Google prefers free flow of data on Net
Infosys faces overtime lawsuit in US
Tatas to meet balance sheet targets by March
No reason for rupee to slide further: Eco affair secy Subhash Garg asks currency borrowers, Importers not to panic
Fuel prices rise upto 5.30 per litre to record highs in six weeks
Mutual fund assets hit all-time high of 25.2 lakh crore on Aug inflows
Current account deficit eases marginally to 2.4% in June quarter
Policy on EV and alternative fuel tech on cards: PM
SC prescribes Pain relief to 15 banned combo drugs
Power assets; Banks told to consult RBI
Infy enters into IT joint venture with Temasek
Vodafone Idea on track to reap $10b synergy benefits
Online surveillance planned via UIDAI
After Amazon and Whatsapp, Apple orders 'stop payment'
Lighthouse invests 113 crore in Nykaa
Coke, Cadilla battle for Kraft Heinz India brands
Delhi HC raps Malvinder Singh for selling stake in Singapore Trust
Rupee fall, surge in bond yield continue
FMCG Cos pip Tech majors in terms of P/E ratio
CIC to red flag Srikrishna panel suggestions
Toyota Suzuki readies Electric, Hybrid models
Victory for LGBT rights: Sc discriminates Sec 377
Cos will have to bring in policies
India inks pact to access US defence Tech
Aurobindo to buy Sandoz's US units for $900m
19 power projects may land in NCLT
Electric vehicles, Alternative fuel cars won't need permits: Gadkari
RBI's MPC member questions GDP growth numbers
L&T offloads 6.08% stake in Larsen & Toubro Infotech
Sebi says will review tighter FPI norms, panel meets stakeholders
Rupee hits new closing low of 71.75 on macro worries
Malvinder Singh disobeyed order not to sell assets: HC
Govt tells J&J to compensate for faulty hip implants
New National Auto Policy coming soon: Minister
Stressed power assets: RBI denies waiver for REC's Pariwartan framework
PMI falls to 51.5 as new businesses grow slowly, export orders fall
Union Bank hopes to recover Rs 20 bn from three stressed power units
Zydus Cadila gets USFDA nod to sell herpes viruses treatment drug
Lighthouse India acquires secondary stake in Nykaa for Rs 1.13 bn
Bullish alumina prices to hike Vedanta's metal cost by 10%
Cabinet to take up proposal to cap royalty payment to foreign firms
Difference between planned and actual hydropower output narrows
Industry wants sugar price fixed at Rs.36/kg
BEL's order book crosses Rs 50,000 cr
Havells hopes growth will flow through water purifiers
Tata Sons may use ₹ 12,603 crore TCS windfall to cut debt
Centrum acquires L&T Finance's supply chain business
India wins key concession on services at RCEP
China weighs merger of two wireless carriers to speed up development of 5G
'Make in India' boost in Schneider Electric buying L&T's E&A arm
Tata most 'consumer-focussed' brand in India, Patanjali 24th, says report
Thomas Cook India standalone entity to be debt free by September30
Unicharm eyes 10% of global revenues from India by 2020
SC allows state's plea seeking vacation of order on construction
RBI sells $1.5-2b to guard rupee from crossing 72-mark
Jindal Stainless to triple supplies to automobile segment
Srei Q1 profit rises 114% at Rs 139 crore
India Inc announced M&A deals worth $34.8b in June qtr: EY
Moelis to manage Jet's loyalty programme sale
RBI irked over delay in fixing SWIFT gaps
Hedge fund to step up investments in country from new $ 3b global fund
Rupee: Stocks sink; Bond yields shot up
India to buy 18 bullet trains from Japan
CJI recommends Gogoi as successor
Currency volatility to have 'limited impact': Fitch
Banks with over 10 branches to have IO: RBI
RBI unions withdraw mass casual leave plan
Anil Agarwal succeeds with Vedanta Resources buyout
Sebi's income rose 25% to Rs 752 crore in FY17
NCLT approves 1:10 swap ratio for ICEX, NMCE merger
Investors' complaints hit 6-year high of 43,000 in FY18
Tepid use of funds accruing to NMET slows down mineral exploration
Allahabad Bank to raise about Rs 15 bn via disinvestment in non-core assets
10-yr bond yield touches 8%, Rupee hits record low of 71.18 against dollar
Govt allows state refiners to use Iran tankers, insurance for oil imports
About 1,800 businesses apply for migration to GST regime
Domestic airlines may post higher losses at $1.90 b: CAPA
L&T Construction bags orders worth Rs 2,654 cr from MSRDC
Relief in sight for Adani, Tata and Essar's Gujarat power projects
R-Infra wins Rs. 200-cr arbitration award against NHAI
India manufacturing PMI eases in August on softer domestic demand
DLF to invest over ₹ 1,400 crore in Gurugram project
Vijay Mallya gets 3 weeks to file reply on ED's plea
Jindal Steel & Power studies breakup as ₹42,000 crore of debt weighs
LIC board to meet tomorrow to decide IDBI Bank stake hike plan
Manipal to pick up minority stake in Cigna TTK Health Insurance
RBI data: Loan defaults by MSMEs doubled in last fiscal
Icra keeps ratings of IDBI Bank's bond programmes under watch
Vodafone Idea raises Rs 1,500 crore via debt
SBI responds to Singapore govt initiative with remittance centre
Govt appears committed to fiscal discipline, consolidation
Exclusive zero-debt club shines as others fight corporate debt
Focused on inflation targeting, Patel took Rajan policies forward
Rubber production-consumption gap widens to 58% in Q1FY19
Supply risks building, crude oil can hit $80 a barrel
DeMo achieved objectives quite substantially: Govt
Airtel shareholders approve merger proposal with Tata
Varde, Birla are said to create $1 bln joint venture
Indian Oil earmarks Rs 22,000-crore capex for FY19
Nalco pays record dividend of Rs 1,102 cr for FY18
'Awaiting banks' reply on Reliance Naval resolution plan'
Almost all of demonetised currency came back; 99.3% returned, says RBI
ICICI Bank tells Sebi it was unaware of conflict of interest
Anil Ambani's RInfra completes sale of Mumbai power assets biz to Adani
Centre to ask Johnson & Johnson to pay up in hip implants case
RBI urges govt to expedite reforms for twin balance sheet problem
NCLAT admits Mistry's plea against NCLT order upholding his removal
Rupee slides 49 paise to end at record low of 70.59 vs dollar
MUDRA launches major impact study of loans to SMEs
Lanco Babandh faces insolvency proceedings; NCLT appoints IRP
To reduce debt, IL&FS to go for Rs.4,500-cr rights issue, divest assets
LIC Board to meet on 4 September to decide modalities for raising stake to 51% in IDBI Bank
Aston Martin makes long-awaited move for IPO in London
Disclose names and action taken against wilful defaulters: CIC
Aditya Birla, Varde to set up $1 billion JV to buy stressed assets
Tata Power-backed Resurgent set to buy 75% stake in Prayagraj
Stressed power assets: Panel to discuss ARC, no fiat to RBI under Section 7
IOC to invest Rs 286 crore to expand LPG bottling output in north-east India by 2020
Financial fraud: Ministry of corporate affairs to crack down on firms
All realty projects to eventually come under RERA ambit, says minister
Nomura pegs total stressed assets at Rs 16.30 lakh cr
India remains preferred destination for FDI
Principal buys out Punjab National Bank in AMC
Wipro bags multi-year deal with Denmark company
FPIs pullout $280m, DIIs pour $10b so far this year
Electrosteel Steels trade at wide gaps on bourses
Vedanta corners 41 oil blocks in OALP Round-1
Petrol crosses Rs 78, diesel rates at new high
Walmart-Flipkart deal: CAIT approaches NCLAT
FMCG to grow 12-13 in calendar year 2018: Nielsen
'Coal imports may rise to 62 mt in FY19 to meet power demand'
Jet Airways gets $300 mn as lease incentives & debt
LIC board gives in principle approval to acquire 14.9% stake In IDBI Bank
Vedanta gets 41 oil blocks out of 55 in first round of open acreage auction
Warren Buffet's Berkshire Hathaway takes Rs 25-billion stake in Paytm
Fertiliser shares in focus; FACT, SPIC, Chambal Fertilisers up over 10%
Nestle, Starbucks seal $7.15 bn licensing deal
Adani set to acquire Reliance Energy's Mumbai power biz
Cotton output likely to decline by 3-4% this season, says CAI
Foodgrain output to hit all-time high of 285 mt
Lupin gets USFDA nod to market Gabapentin tablets
SBI plans to sell 3.89% stake in NSE
RBI cancels licence of Tech Mahindra for issuing pre-paid cards
Ruchi Soya sells over 1 crore shares in open market
RBI deadline over, 20 new NPA accounts to go to NCLT
Reliance Jio seen eroding Vodafone Idea, not Airtel
RIL's 2% gain fuels Sensex 202-point jump, Nifty ends above 11,700 for first time in Indian history!
PepsiCo India Beverages head Vipul Prakash resigns
Substantial debt may impact company's ability to raise finance: Tata Steel
MCFL gets green nod for Rs 1,547-crore expansion project in Karnataka
Empower Sebi to crack down on erring CAs, says panel
Steel industry hopes govt will bring clear policy to boost ecosystem
PNB eyes IBC route for Rs 6,000cr power NPA recovery
PEs, airport operators in race for Bidvest's 13.5% MIAL stake
Sebi laying the groundwork to allow 'on tap public issue of bonds'
Resurgent may offer better terms for Prayagraj than JSW energy
Borrowing cost for Govt may go up as LIC gives bond sale a miss
Sebi plans to deploy technology to beef up surveillance activities
Jio is now the No. 2 in India by revenue
Debt-laden Isea cellular looks to plug revenue leakage
Apollo tyres to Invest $1 billion, targets 20.000 cr sales by 2020
GE Power to shut Gujarat plant from today
PSU banks plan closure of 70 overseas offices this FY
Big willful defaulter dues to PNB drop to Rs 15,175 cr
Govt to make it mandatory for unlisted cos to issue shares in demat form
Liberty House plans to turn ABG Shipyard into steel plant
Listed preference shares held for 12 months qualify for LTCG
Shubh Loans raises $4.2 million from Saama Capital, others
51,837 industries in Delhi under National Green Tribunal scanner
Jet Airways staff association flags concerns; seeks clarity on airline problems
Panel reviewing penal provisions under Companies Act likely to submit report this week
Anil Ambani resigns as director of Reliance Naval and Engineering
Asset quality concerns at PSBs seem to be fading away
Companies Act review panel report likely this week
Plans to monetise PSUs' assets put on back burner
Bankers burning midnight oil to resolve Rs 3.8 trn NPAs before deadline
Co-working firm Awfis eyes aggressive expansion after fund infusion
Rupee fall no macro worry, was long overdue: Panagariya
FPIs stay bullish on India; pour in Rs 6,700-cr in Aug
SEBI looking at cutting expense rate of MFs, says top official
Sundaram Finance Q1 net up by 25.9%
Corporate affairs ministry seeks details from crisis-hit Jet Airways
Five of 10 most valued firms add Rs 65,000 cr in m-cap
Tax authorities left high and dry in IBC cases
Fed's Bullard warns of recession risk in raising rates
Court to hear Mallya case under new fugitive law today
Sebi is working on a special policy to ensure data privacy for investors
SAIL prepares to exit non-operational, non-performing joint venture firms
40% districts in S India received deficient rainfall: IMD
GDP may have galloped to strong start in FY19: Growth may cross 8% in first quarter of FY19 following 7.7% growth in last quarter
US Fin sanctions cast shadow on India- Russia defence contracts
Whatsapp feels payment service getting unfair Govt. treatment
Ministry considering proposal: galvanised steel for 70% car body
RCom case: SC refuses interim stay on TDSAT order against DoT
Auto Cos have a new export market: India
Tatas cant force Mistry to sell shares, for now
DoT may ask RCom for 2,900 cr SUC or bank guarantee of same amount
80: 20 gold scheme under scanner
Prices of appliances rise on sliding
MHA scraps Al Jazeera's security clearance: Channel's fate hinges on ministry response to its review petition
Sebi alarmed over top MFs holding big chunk of AUM
Moody's pegs Indian's Economy's growth at 7.5% for 2018, 2019
Re touches 70 ahead of 72nd I-Day
A 24 x 7 market behind the tanking Re
JSW steel offers 19.5kcr for Bhushan power & steel
Message for whatsapp: Go by the book or face charges
Solar power Tariffs drop at NTPC's latest 2000- MW auction
Ebix may shell out another $ 500 m for buyouts in India, says CEO
Fortis shareholders okay IHH acquisition of healthcare
Lakshmi Vilas Bank plans to sell up to 51%
Aadhaar, Ayodhya verdicts soon
Landing, parking charges may be fixed at all upcoming Airports
Moratorium for corporate debtors won't apply to guarantors: SC
RBI asks rating firms to scan Cos' bank details
Infy ropes in Mckinsey to boost sales
Winds of change: Tariffs rise at NTPC's 1200MW Auction
IHH to sell its 50% in Apollo Gleneagles to partner
India tech Backs Ecomm draft
Us sanctions cast shadow over India, Iran gas talks
Ahmed Patel made AICC treasurer, Vora now a Gen Secy
Tea auctions in Kerala interrupted over flood situation in states
Sensex, Nifty hit new highs
Stainless steel Cos oppose Sops to China
Kellogg, Reckitt Benckiser join queue for a glass of Horlicks: Nestle, Unilever, Coke & Mondelez already in race to take over GSK's consumer nutrition unit
India: 50m online shoppers, Bharat: 50m dropouts
Infosys stock dips on CFO exit
Apple owned outlets on backburner: bigger franchisee stories likely
Greenko-Orange deal faces strong headwinds
Flipkart may buy Liv.ai for $40 million
Amazon may go shopping for more with Goldman, Samara
Foreign Loco majors run into GST issues, seek early solution
Iran says no opec member can take over its share of oil exports
May could face trouble over Brexit deal, says conservative law maker
Trump says he allowed McGahn, others to cooperate with Mueller
PVT power Cos' plans to upgrade equipment face funding hurdle
EU, 11 others back US stand against Indian subsidies
Bankruptcy code comes to the rescue of retail depositors
Govt. defers coal India stake sale
Bharti Airtel to form separate fibre separate fibre company
Recently ended agreement with JIO over pricing: Zee inks content deal with Airtel
CPI cools to 4.17% in July, down from 4.9% in June
Tata Steel Q1 profit doubles to Rs 1,954 crore YoY
Tata Sons to sell Rs 11,500 cr shares in TCS buyback
Indian firms lag compliance of EU data protection rule
Tata Steel submits revised bid for Bhushan Power
Cadila picks up 51% stake in Windlas Healthcare
Iran offers Asian buyers cheapest oil in 14 yrs
Sebi's FPI norms may jeopardise billions of dollars from offshore funds
Steel-makers seek 40% export duty on graphite, removal of dumping duty
Ramky Enviro Engineers to invest Rs.2,500 cr in new projects, expansion
Bombay HC directs CBDT to reply on STT on physically-settled derivatives
Tata Chemicals Q1 profit up 14% to Rs 2.69 bn; debt slips to Rs 15 bn
Incumbent telcoms' profit halve in 3 years, margins fall 1,000 bps
SBI ranked as India's most patriotic brand: Survey
RBI backs proposal to form asset reconstruction firm to salvage power sector stressed assets
Wilful defaulters, economic offenders may not settle a case, suggests Sebi panel
RCom reinstates Rs 774 crore bank guarantees with DoT
IOC hopes to get Iranian investment for CPCL refinery
No safeguard duty on solar cells for now, says FinMin
Household savings hit slowest pace, drop 20%
Turkey attempts to calm markets as crisis deepens
Jet Airways, rating agencies come under regulatory scanner over lapses
CCI okays Adani Wilmar's acquisition of Ruchi Soya
Sebi mulls steps to prevent misuse of clients' securities by stock brokers
Telcos to seek fresh dialogue on scrapping interconnect charges
EIL to invest Rs 700 crore for LPG terminal at Okha
Wipro, ITC, Cadila take lead in race to acquire Complan
BSE seeks further clarification from Jet Airways over deferred results
India may not reach 100GW solar target by 2022: report
Iran offers Asian buyers cheapest oil in 14 yrs
Sensex scales 38,000 peak for the first time; bank shares lead charge
SBI & LIC want T Rowe price to reduce stake in UTI AMC: Tell SEBI and Dipam that rule on diluting MF stake to below 10% must apply to foreign firms too
Desi phone Cos dial new strategy to stay affloat
SC sends Jaypee infratech case to NCLT for fresh resolution
RS Sharma's term as Trai chief extended by two years
RCom to give 774cr guarantees
Govt. forms committee to create domestic gold council
Devnagari papers, Urdu dialect keep many off NRC
Telcos ready to deploy public Wi-Fi if 5G is awarded for free
First round of US tariffs on China to hit $50 bn Aug 23
Walmart's $16-bn acquisition of Flipkart gets CCI nod
CCI gives nod to Tata Steel-Bhushan Power & Steel deal
RBI to transfer Rs 50,000 crore surplus to govt
India's per capita income rises to Rs 80,000
PNB in talks with I-T dept to sell erstwhile HQ
Shortage of long product steel hurting EPC companies as cost goes up
NHAI suffers Rs 4-bn loss on non-recovery of damages from realty developers
IMF warns India over PSBs, advocates privatisation
Ahead of LIC acquisition, IDBI gets nod to lower govt stake to under 50%
Sebi set to tackle cyber security breaches, deploy data analytics
NSE keen to set up spot gold exchange: Limaye
India heading for a lower tea output as H1 output falls 5%
HPCL Q1 net surges 86% to Rs. 1,719 cr
HPCL winds down Iran oil supply as US-led sanctions inch closer
RBI cancels licences of 368 NBFCs in first half of 2018
HDFC MF juggles its schemes and thumbs its nose at Sebi
Govt to set up 25,000 MW solar project in Ladakh
Fonterra, Future Group announce joint venture for Indian market
Mumbai BPCL fire: Refinery's hydrocracker unit shut, 40 injured
Supreme Court warns Amrapali group not to play smart with court
NDTV Q1 net loss narrows to Rs 2.88 crore
Government may release second draft of e-commerce policy in a fortnight
IMF says RBI needs to gradually tighten monetary policy due to these 3 key concerns
Banks have limited ability to support high credit growth
Pressure builds on UK Labour to back second Brexit referendum
Plan to cap medical devices margin at 30% nags industry
NSE in fresh talks with Sebi to resolve co-location case
CBI rift reaches Highest levels as cabinet Secy moves in
Govt. may clip wings of wilful defaulters soon
DND app dispute: Trai, Apple find middle ground
SC rejects plea to stay Allahabad HC preceedings against
YSR congress to vote against NDA in RS deputy chair person
Bihar minister Manju plays caste card in Muzaffarpur aftermath
SC demands answers from Nitish Kumar govt: expresses alarm over high incidence of rapes in the country
SC crisis over Justices Banerjee, Saran, Joseph take oath
BJP Should use the month known for the Quit India Movement to espouse the cause of backwards: Modi
Cos expect 10% growth: run-up to 2019 polls
Many foreigners in draft NRC : Assam BJP
Godrej succession: Holkar takes Active Role, Navroze quits non-exec position
HUL to acquire K'taka-based icecream brand Adityaa
Buffett's $111 bn cash pile intensifies buyback debate
India a key market for portfolio transformation: Nooyi
DoT amends licence conditions for net neutrality rules
RCom to complete Rs 25K-cr assets sale by Aug-end
HDFC Bank raises fixed deposit rates by up to 0.6%
10% below-normal rainfall hits sowing of kharif crops
Risks to macroeconomic stability from trade war
No GST refunds for foreigners as of now as there is no provision: FinMin
Bank of Baroda puts Rs 28 billion non-fund exposure under watch list
Mukesh Ambani's Reliance acquires 5% stake in Eros International Plc
Nestle explores inorganic growth route to expand product offering
Maggi hits 60% market share, touches pre-crisis level in value terms
Land acquisition: Govt to credit amount directly to owner's a/c
Britannia Industries to invest Rs 300 cr in dairy business
HDFC AMC stocks spurt 58% on debut
At 3.5 lakh tonnes, sugar exports way off target
Arvind Ltd's standalone net down 20% at Rs 64 cr in Q1
Automobile industry planning ₹ 58,000 crore capex in 2 years
IFC to invest $25 million in Mahindra Rural Housing Finance
BPCL to shut Bina refinery for 45 days from mid-August
Adani Power Q1 net loss doubles to Rs 825 crore
Trump tariff fallout: India becomes steel dumping ground; imports from China jump 67%, Japan 47% and Korea 35%
L&T construction arm bags orders worth Rs 1,296 crore
Government sets up two task force for making aircraft, UAVs
Government likely to raise import duty on 300 textile products to boost domestic manufacturing, employment
Britannia proposes stock split, bonus debentures
Regulate global proxy advisers: Uday Kotak
SMP exports dip to 4% from 65% in 4 years
Vehicle scrap policy to see more consultations: Gadkari
Steel majors' buying of stressed assets to boost consolidation
US sanctions on Iran cast shadow on Indian exports
Restore LoUs at the earliest with proper safeguards, RBI told
Banks plan to back staff against probing agencies
Amazon's move to roll out UPI-based service hits data localisation hurdle
GoM to look at reservations on joining RCEP
Global, companies reject Trai's call to step up local gear production
OIL ties up with university Houston for oil & Gas Study
Fresh row over justice KM Joseph's seniority
Global Cos reject Trai's call to Step up local gear production
Blackstone to add some of its office Properties in REIT with embassy
Handset makers seek state incentives to boost production
Trai chief defends rules for curbing pesky calls
Tata steel won't cough up 72cr for Bhushan steel's Corp Office
FPI's net inflow at 2300 crore in July 2018
Rhodium to get pricer as shortage looms
India's rice heads to Beijing now: China cleared 19 Indian rice companies to buy from, another four expected to get clearance
LIC may need to pay premium for IDBI assets
LIC to give credit up to 8k cr to NHAI this fiscal
HDFC not keen to bail out ILFs
ICEX eyes steel, petrol & diesel futures contracts
At Tata Sponge's AGM, three RPTs were defeated, despite only 3.77% opposing it
UTI AMC CEO unlikely to get second term
Can stay afloat for 60 days only, Jet tells Staff
Niti may test-drive proposal to run cars on 15% blended fuel
Volume growth of FMCG, auto Cos at 5-yr high
Swiggy looks to raise up to $500 million
India may delay imposition tariffs on 29 US products
Manipal may buy AMRI from Emami
Whatsapp makes a business case with its New tool
No formal communication on NHPC stake sale: NTPC
Cabinet clears changes to GST laws, to be placed soon
RIL red-flags FDI plan in inventory-based Etail
Infy eyes large digital deals: Parekh
Apple Brass keeps mum on India show, outlook during earnings call
Passenger vehicle sales dip 2% in July on last year's high base effect
Below normal rainfall threat looms over India, says Skymet
Bank fraud: ED to request 6 countries for assistance
AMC/ AIF Model banks expect 50k-cr haircut
CEOs lead from the front in Cos' fake news fight
RBI raises rate keeps policy stance neutral
4G base price cut as 5G nod for sale debut
cabinet nod to IDBI bank stake sale to LIC
ICICI Bank warns against increased regulatory scrutiny
manufacturing activity eases slightly in July
Unemployment to stay at 3.5% in India: ILO
New proposal to clean up NPA mess may cost banks Rs 50,000 cr
Possibility of currency wars risk to India's growth: RBI Governor
Elgi Equipments acquires Sydney-based Pulford Air & Gas
RBI hikes repo rate by 25 basis points to 6.50% amid inflation concerns
Bharti Airtel says enterprise becoming growth engine
Centre clears GST refund worth Rs 543.78 bn of exporters till July end
China accounts for 89% of India's total solar cells imports in 2017-18
GST evasion worth Rs 3,026 cr detected in 1 yr: Govt
Sebi wins Australia court case against group accused of financial fraud
ICICI Bank makes disclosures on Chanda Kochhar in US SEC filing
Bank ombudsman scheme to be strengthened: RBI
UPI transactions decline 4.5% in July
Rural demand, farm income set to grow: RBI
Skymet predicts below normal rains this monsoon
FRDI Bill withdrawn on public concerns, says FM Piyush Goyal
TRAI recommends spectrum pricing changes for next auction
RBI rate hike reflects uptick in credit demand: Industry
LIC takeover may see infusion of Rs.13,000 crore in IDBI Bank
Balance sheets of external sector, banks need greater focus of govt: Report
MCX Clearing Corporation gets SEBI nod; may start operations soon
Apollo Tyres net up three-fold at Rs 252 cr in Q1
Maruti sales decline, announces price hike
Arcelor Mittal Q2 net income up at $1.9 bn
NCLAT tells Bhushan Power lenders to submit revised plans by Monday
Piramal set to demerge pharma, finance arms, list them on stock exchange
Govt issues fresh guidelines to 12 major ports for pension fund investment
Trai sets new quality norms for 4G networks
Indian consumer sentiment hits record high in July, says report
SMEs want big firms sitting on payments removed from RoC
Monsoon rainfall remains 6% below normal
PSBs earn over Rs 3K cr via customer charges in 4 yrs
Amrapali Group's bank accounts, movable properties attached for defrauding homebuyers
Hero MotoCorp sales up 9 pc at 6,79,862 units in July
JSW begins integration of Aferpi specialised steel plant in Italy
Brent crude to average $72.87 a barrel in 2018
Insurers have Rs 15,167 crore unclaimed money
BEML keen on developing bullet train coaches in India, but awaits clarity
Tesla plans $5 billion investment in Chinese factory
High level committee formed to revive power plants
Auditors should not quit audit work of cos halfway: Pai
Rs.7.63-lakh crore investment projected for petrochem hub
India-centric PE funds in market to raise $15B
JK Cement Q1 PAT decline 38% to Rs49 crore
Bharti Airtel partners Razorpay for UPI payments
Centre seeks Parliament's nod for Rs.980-cr equity infusion in Air India
Vedanta Q1 profit rises 2.1% to ₹1,533 crore, misses estimates
Sebi panel trashes E&Y's fame
Coal India to procure mining equipments worth $2 billion through global tender over next 3 years
Srei sees strong growth in equipment finance
Telecom gear testing at DoT labs from October 1
Insurers told to protect data obtained from wearables like
Banks' bad loans surge to Rs 9.61 lakh cr by FY18: Govt
Monsoon deficiency remains at 5 per cent
Government considering restrictions on royalty payments
US agency signs MoU with Indian company for 41 MW power project in Andhra Pradesh
Sterlite Copper unit shutdown led to Rs 20k cr loss to economy: CEO P
Anil Agarwal offers $1 b to take Vedanta Resources private
India's April-June fiscal deficit at 68.7% of 2018-19 target
SMEV moots efficiency linked subsidy for electric vehicles
Air India tower sale plan may fall at first hurdle
AIFs could become a large asset class in coming years
Grofers eyes Rs 5,000 crore topline by FY20 on private labels push
Wind turbine manufacturer Suzlon plans to re-enter overseas markets: CEO
Piramal Group seeks to form renewable energy platform
Deutsche Bank is cutting staff in Chicago in US retreat
NMDC wins race for gold mine in Andhra Pradesh
Banks eye one-time settlement deal from stressed power firms
India Post Payments Bank to start operations with 650 branches in August
Govt moots stake sale in stressed power plants
IMD starts block-level agri advisories
Daimler India posts 63% rise in Bharat Benz trucks sales
Govt to unveil new policy to make India defence manufacturing hub in 10 yrs
RBI's diktat on virtual currencies paves way for dabba trading in bitcoins
NTPC Q1 profit slips 1% on rise in expenses
File all NCLT pleas on shell firms by Aug: CBDT
FPIs net inflow at Rs 1,800 cr in equities in July so far
Reliance to shut MA oil and gas field in Krishna Godavari basin in Sept
Exports must get priority sector lending tag: Prabhu
Bhushan Power: Tatas, Liberty House will have to match JSWs Rs.19,000-cr bid
TCNS Clothing to make stock market debut on Monday
EVs likely to pose threat to oil companies, says ICRA
Not afraid of standing next to India Inc: PM
Market Players expect Nifty to gain 6% by Dec, Rebound in MId- & small- caps
Better HDI must for 10% growth, says NITI chief Kant
TVs logistics in discussions to buy smaller rival Gati for 1500cr
Reliance eyes $2.7 b in fresh Fx loans to refinance high cost debt
Worst is over for Telecom: DoT Secy
SJM opposes MSME Amendment bill
Fadnavis promises Quota within Mth, but Maratha outfits plan bigger stir
R&AW sacks 4 joint secy-level officials for Non-performance
SriKrishna panel submits data protection report
HDFC asset management company issue subscribed 83 times
Bhushan power lenders to call fresh bids after JSW revises offer
RIL Quaterly net hits 9459cr on petrochem margins
Indices hit new highs on Q1 show
Paytm shifts payments bank CEO Satti to new COO role
Hindalco's Novelis to buy Aleris in $2.58-b Deal
Sensex touches 37k : Bank stocks push Indices to new Highs
ITC net rises 10% to 2818crore
Airtel's net loss in India widens
Maruti net profit grows 27% in Q1
India may use Iran banks for payment
Banks may sell some power Cos
Dominos being grilled for not passing on GST relief
HDFC bank to prefer ADRs to raise Funds
Paytm picks up 10 Acres for Mega campus in Noida
Tata sons lines up 10,161 cr investment for group Cos
Centre open to enacting law to curb incidents of lynching: Rajnath Singh
Govt says RBI has teeth to keep private, public banks in check
Amazon, Flipkart on talent hunt at campuses
Indian deposits in Swiss banks dip 34.5% from a year ago
Cabinet may soon consider IDBI plan to sell controlling stake to LIC
Vodafone- Idea combine likely to intensify price war with rivals
Kumar Birla steers talks to bring home aleris
Delay in TTSL, Tata communications deal Worries minority shareholders
Wealth management emerges as the new buzz word in financial sector
Basmati teeters over Trump's Iran knock
Flipkart gears up for BBD sale, to step up hiring
Television Remains the choice of the masses even in digital times
Symbolic Victory: Prices of sanitary Pads unlikely to see major change
Spicejet CMD need not dilute his stake
IHH audit panel chair said no to Fortis
Whatsapp set to limit forward March _ to five
Sebi warns MFs against flouting distributor commission norms
12 GW solar plan in works to protect local players against cheap imports
Tax on actual tariffs to improve yields & occupancies : HOtel Cos
Cos with over 100cr Debt May have to borrow 25% via bo& nds
UPL to acquire Arysta for $4.2B in all_cash deal
Wipro Q1 net up 2.1% at 2,120cr
Khaitan's staff 'revealed' his ties with middlemen: ED
India-US 2+2 dialogue to be held in Delhi on Sept 6
Avenue cap to pick up majority stake in Arcil for 1000 crore
Anti-Sikh Riots biggest incident of Mob Lynching, says Rajnath Singh
Voda India to raise up to 5kcr to clear dues
India turns wheels for auto Marques
SC reiterates proposal to elevate justice KM Joseph
Sitharaman backs J Manjula as next chief of DRDO
Digitisation to help explore $39bn export opportunity
Trai overhauls rules on pesky calls, spam messages
Digital retail lending may hit $1 trn in 5 years
NCLT approves Aion Capital-JSW Steel resolution plan
June quarter CAD seen rising to 2.5% of GDP: Icra
India may lose trade dispute with US in WTO: Secy
New industrial policy to suggest ease of trade
India to remain fastest growing economy till FY20: Asian Development Ban
NSE to levy 10 times higher STT on physically-settled derivatives
Liquidity crisis for gems, jewellery sector as Nirav Modi case scares banks
ABB India net profit up by 26% in Q2 of 2018
Sebi to finalise guidelines to allow MFs to invest in commodity derivatives
India's demand for solar equipment import jumps 90% in last three FY: Govt
Registered valuers told to expand scope of work
Suzuki Motorcycle to invest ₹600 crore in its second India plant
European Union to curb steel imports after Trump tariffs
Fortis EGM on 13 August over stake sale to IHH
Ex-RBI deputy governor R Gandhi cautions against frequent loan waivers
AirAsia announces $30 billion deal for 100 Airbus planes
Kotak Mahindra Bank Q1 net up 12 per cent to Rs 1,025 crore
Liberty House to invest Rs.300 cr to restart Adhunik, Zion Steel
Secular countries may have more economic growth, says study
JSW Cement to set up $150-mn clinker facility in UAE
Rupee closes at historic low of 69.05
Fuel, land and electricity will be under GST, says CEA
IOC, BPCL, Adani bid for most city gas licences
Coal demand rises 7.5% in FY18: Goyal
IBBI working on cross-border insolvency laws
Novartis to pay as much as $1 billion for skin drug rights
MCF gets green nod for 1 mt fertiliser plant
India's growth story intact despite challenges: Ficci
WhatsApp's Message: Will follow Ec code
Coal demand rises 7.5% in FY18: Goyal
Rural market drives consumption demand
Won't prepare high-risk List : Sebi to mauritius
CCI Nod must before Lenders finalise Resolution plan
FB to remove All content Attacking Individuals, Says Zuckerberg
Renew IPO may be followed
TPG teams up with ADIA to back UPL's $ 4.3 Arysta Buy
Credit rating Cos face RBI scrutiny amid rising NPAs
Infy imposes stricter clauses on CEO Parekh, can't join rivals if he quits
Petrol, Diesel prices set to see sharp drop as crude tumbles
RIL plans to borrow $6 billion in consumer push
Daiichi Sankyo moves Delhi HC to block Fortis-IHH deal
Govt introduces bill to check unregulated deposits
245 infra projects delayed, 345 report cost overrun
Airtel added 36 mn users after Telenor India buy: Trai
Parliament nod to bill for SBI-subsidiary bank merger
Government increases sugarcane FRP by Rs 20 per quintal to Rs 275
Inflationary pressures, led by crude, expected to hurt FMCG companies
Very positive momentum against US sanctions on India
EPFO invested nearly Rs 489.46 bn in exchange-traded funds till June 30
CAG probes Rafale jet deal; CBI examines 4 graft cases in defence: Govt
Cipla plans acquisitions to enter new therapies, boost Africa business
Bank credit rises by 12.78%, deposits by 8.33%
Anti-dumping duty on grinding media balls from China, Thailand extended for five more years
Nod for Bill to replace insolvency ordinance
ONGC, OIL will not bear entire royalty, cess burden in pre-NELP blocks: Pradhan
Zydus Cadila gets USFDA nod to market 4 generic products
Merger of associate banks with SBI to enhance profitability, says Minister
Cabinet nod for tabling bill recognising home buyers as financial creditors
Oil and gas- Expect inventory gains for OMCs
Global Cyclicals will drive first quarter earnings
Ranbaxy promoters asked to disclose foreign bank accounts, assets
Govt concerned about additional duties by US
ONGC gets board nod to exit Pawan Hans, to sell 49% stak
DoT looking into Vodafone-Idea plea on recalculating dues
Govt decides to withdraw contentious FRDI bill
Ultratech Cement Q1 profit slumps 30% to Rs.631 crore on higher petcoke, fuel prices
Google fined $5 billion by EU, told to alter Android model
Google fined $5 billion by EU, told to alter Android model
Bill to curb ponzi schemes tabled in Lok Sabha
Insolvency process: Videocon lenders' claims at Rs 59,000 crore
Reliance Comm Q1 net loss narrows to Rs 342 crore
Very positive momentum against US sanctions on India
Govt nod to Rs 11,336 cr capital infusion in 5 state banks
Panel to change laws to prevent defaulters from fleeing
Steel Minister announces pension scheme for CPSEs
Trai's draft rules to curb pesky calls, msgs: COAI
Technology driving BFSI sector to grow: TCS
HDFC AMC's Rs 28 bn IPO to open on July 25 at Rs 1,095-1,100 per share
Ashok Leyland Q1 profit up by 233% to Rs 3.70 billion, beats estimate
'US import tariff to have indirect effect on steel industry'
Trucks can now legally carry 20-25% more load
Federal Bank posts 25% rise in net profit on lower provisioning
ICICI Bank audit committee hires law firm to look into bad loans
NBFCs eye stressed SMEs for lending opportunities
China's cooling economy spells trouble ahead for global growth
25% safeguard duty on solar modules is both a boon and a bane: Crisil
IDBI Bank to move govt to make LIC promoter
Grofers to enter FMCG segment; eyes Rs 2,500 cr sales in FY19
Government doubles import duty on over 50 textile products
UK employment hits record high as job creation continues
Financial technology yet to reach potential
Securitisation volumes up 128% in Q1
'Proposed solar safeguard duty is double-edged sword'
Jet orders 737 MAX 8 Boeing planes for $9 b; drawn by fuel efficiency of its narrow body
L&T construction arm bags orders worth Rs 2,388 cr
Cabinet to consider Rs 20 per quintal hike in sugarcane price for 2018-19
Karnataka miners for curb on iron ore imports
EU, Japan to sign massive trade deal in 'strong signal' against Trump
NCLAT stays voting by Bhushan Power & Steel lenders on finalising bids
Increase in truck axle load to impact CV sales
LPG subsidy jumps 60% as govt maintains prices to help consumers
LIC board likely to meet next week to discuss IDBI Bank deal
1,000 NPA accounts under scanner in ICICI Bank probe
India's fuel demand up 8.7% in June, gasoline sales rise by 14.9%
With US trade under a cloud, China opens to Indian pharma
World oil supply risks being 'stretched to limit': IEA
CCI dismisses complaints against Google; chairperson gives dissent note
RCom alleges govt of bias in Idea-Vodafone merger case; DoT denies charges
Tata, Fortum win Karnataka solar tender for Rs 2.85/unit
LPG subsidy a distortion, provide fuel-agnostic cooking sop: NITI Aayog
States fail to meet fiscal targets for third year: RBI
Brokers barred from taking cash from clients
Nestle breaks into Rs1 trillion market cap club
NCLAT rejects Liberty House plea to stay resolution process of Bhushan Power
Tata-Mistry feud: Chairman doesn't enjoy a free hand, says NCLT
GE commissions first leg of grid-stabilisation system for PowerGrid
Government to forego nearly Rs 6,000 crore locked in tax disputes
Russia tightens grip on Europe's gas
DoT clears Idea-Vodafone merger with conditions
PE/VC inflows jump 46% in H1, cross $15 billion: Report
PM may announce 3 new agri marketing reforms
Jio's broadband service to impact MSOs, DTH players
9th CGD bidding may fetch Rs 70,000 cr investments
HCL Tech to consider share buyback on Thursday
'China could hurt US once it ran out of imports to tax'
India Inc to post 12.8% revenue growth in Q1; highest in three years
Industrial credit stagnant at Rs 27L crore
Electric Maruti Suzuki Alto, Swift soon! Suzuki aims to sell 15 lakh electric cars in India.
Foreign Secretary Boris Johnson quits UK govt in mounting Brexit crisis
IHH Healthcare likely to seal Fortis deal with ₹ 4,700-5,400 crore bid
UPL set to acquire Arysta LifeScience for over  $4 bn
3 PE firms in talks to buy stake in Glenmark API business
Xiaomi makes weak debut after big-bang IPO
Mistry to appeal against order
Samsung opens world's largest mobile phone factory in Noida
Summer crops acreage falls; July rain critical for sowing
46 amendments to GST law on anvil; employers may get to claim ITC on food, transport
HCL Technologies gets government's nod to set up SEZ in Andhra Pradesh's Vijayawada
RBI raises Centre's WMA advances to Rs 700 bn for July-September quarter
Liberty House moves NCLAT, seeks info on bids from Bhushan Steel lenders
SIDBI targetting MSME lending of Rs 1.40 trillion during current fiscal
Warren Buffett starts to say goodbye to a pile of equity-index options
SAARC Development Fund plans cross-border e-commerce platform
Personalized Dashboard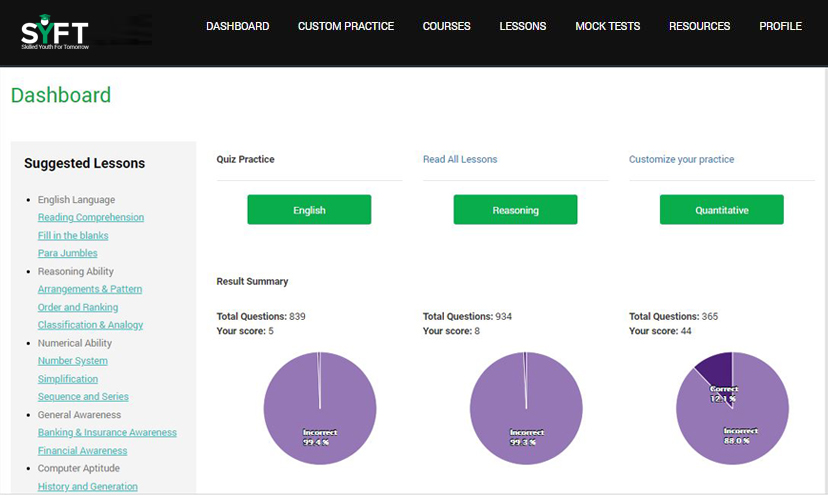 Extensive Lesson Library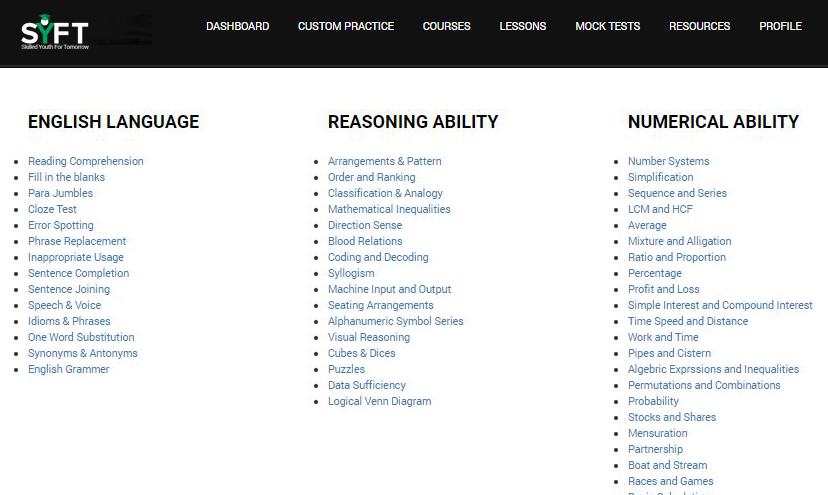 Practice Test